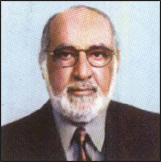 1815 was the year we trace our beginnings from and over a period of 2 centuries, I am proud to state that Tayyebi Dawakhana has never wavered from its principle - the use of 100% natural ingredients for producing the finest quality natural-healthcare products.
All raw materials, from herbs and fruits to minerals are organic, which means every nutrient present in our products is wholly sourced from natural origin - the crux of the Tayyebi philosophy.
The art and science of natural healthcare handed down through generations has been preserved and retained in our family and is the reason for the high efficacy, excellent safety and tolerability profile of our medicines. Our history and knowledge of natural healthcare isn't the only factor for our success. With a team of qualified Hakims belonging to our family we are better able to serve the ailing population with both professional consultation and quality medicines.
Today Tayyebi Dawakhana strives in the same spirit and dedication as our forefathers to provide a wide range of natural products prepared under strict quality controls. By using traditional as well as modern manufacturing practices we are constantly improving our processes while maintaining the purity and efficacy of our ingredients and medicines.
May Allah grant us the wisdom and compassion to serve humanity the natural way!
Hakim Nasiruddin Tayyebi