In the year 1815, in a small town called Indore in Madhya Pradesh, India, a gentleman by the name of Mulla Moosajee laid the foundations of what would later be known as Tayyebi Dawakhana Private Limited. This was the year when Moosajee moved to Indore from Rampur, his original hometown, and setup his Unani practice.
Moosajee was a self taught man and applied his knowledge gained from various medical manuscripts and experimented with different organic materials. He would prepare herbal concoctions in his house, and also consult patients. His profession was subsequently taken up by his son, Mulla Adamjee, who would serve the local community of his town from his residence.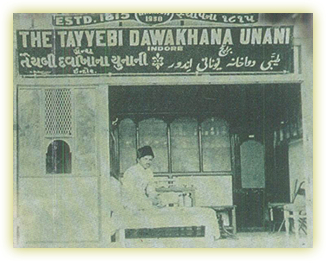 Up until his lifetime Mulla Adamjee's practice had been limited to a very small scale, a tiny room in the house serving as both his laboratory as well as dispensary. Due to the lack of any formal training in Tibb-e-Unani, having learnt everything from his father, Adamjee felt the need for proper education and training for his son Sheikh Tayyeb Ali if he were to achieve any success in life. This realization would prompt Mulla Adamjee to seek the best education for his son, who fulfilled his father's dream by establishing Tayyebi Dawakhana Unani, the precursor to Tayyebi Dawakhana Private Limited.

From an early age Sheikh Tayyeb Ali displayed a penchant for botany, collecting herbs, which would readily be available from his father's dispensary, and studying their shapes, colors and sizes with fascination. Realizing his son's potential, Mulla Adamjee quickly sent him under the tutelage of Hakim Mohammad Azam Khan who is considered the pioneer of Tibb-e-Unani in the Sub-Continent and has to his credit great works of encyclopedic scope (Muheet-e-Azam, Ikseer-e-Azam, Rumooz-e-Azam, Qarabadeen-e-Azam, among others).
Being an industrious student of the great Hakim Sahib, and amongst his most brilliant pupil, Sheikh Tayyeb Ali was encouraged and instructed by his illustrious mentor to setup a Dawakhana (medicine manufacturing unit) in 1832, with the aim of producing quality herbal medicines conforming to the standards set forth by Hakim Azam Khan. Hakim Azam Khan laid great emphasis on the right weight and quantity of ingredients, which according to him were the basis for the efficacy of his medicinal formulations.
Under the patronage of his mentor, Sheikh Tayyeb Ali set about the task of providing the masses with quality medicines which were meticulously researched and formulated using the vast body of information gathered and developed over a period of 2500 years.
As the popularity of its medicines grew, the need for expansion led to establishment of a larger manufacturing facility along with more Matabs (herbal clinics). This task was aptly carried out by Hakim Tayyeb Ali's sons Hakim Ghulam Ali and Hakim Mohammad Hussain. The two brothers were instrumental in deploying modern management practices and bringing the Dawakhana at par with Western pharmaceutical companies of their time. However, the scope of Tayyebi was still limited to a few neighboring towns, and it would take the foresight and determination of one man who would make Tayyebi a multinational name for Unani medicines. This man was Hakim Sheikh Mohammad Ali Tayyebi.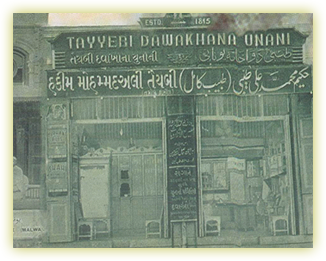 Born in 1909 in Indore, Hakim Sheikh Mohammad Ali grew up imbibing the traditions of Tibbe-Unani from his grandfather Sheikh Tayyeb Ali and father Hakim Ghulam Ali. Having graduated from Asifiya Tibia College, Bhopal, which was considered the best herbal institution of its time, with a gold medal, Hakim Sheikh Mohammad Ali possessed not only the skills but also the will and courage to grow his company beyond borders. This led him to venture into the metropolitan city of Bombay in 1934 where he setup his first Matab, thereby extending the reach of the company and shifting its focus from a rural to a modern urban-based company.
Following the independence of Pakistan in 1947, Hakim Sheikh Mohammad Ali Tayyebi embarked on a momentous journey to Karachi, Pakistan which would become his new homeland and the future headquarters for Tayyebi Dawakhana Private Limited. He setup his first Matab in Karachi in 1948 which saw an outpouring of public appreciation due to the lack of other quality health centers in the city.
Over time, Hakim Sheikh Mohammad Ali Tayyebi established more Matabs in the country and in 1960 purchased land for the development of a modern manufacturing facility to cater to the growing demand for his medicines. In 1984, the company was incorporated and Tayyebi Dawakhana Private Limited came into being. Thus by the time of his death in 1988, Tayyebi Dawakhana was well-entrenched in the Pakistan Unani market as a standard-bearer for quality herbal medicines.
With the same zeal and devotion as his grandfather, Hakim Sheikh Mohammad Ali Tayyebi dedicated his life to the well-being of society not just by providing quality medicines, but through his active involvement in the betterment and uplift of the healthcare system in his new country. He was the executive member of the Council for Tibb, and played an important role in creating awareness of the benefits of Tibbe-Unani by garnering governmental as well as public support for the recognition and development of this system of healing.
As has been the tradition of the Tayyebi family, the knowledge and expertise of Tibbe-Unani was meticulously handed down by Hakim Sheikh Mohammad Ali to his sons. The eldest, Hakim Sheikh Tayyeb Ali Tayyebi, who was Chairman of Tayyebi Dawakhana till his death on January 16th 2009, followed in his father's spirit and served as President of PTPMA (Pakistan Tibbi Pharmaceutical Manufacturers Association).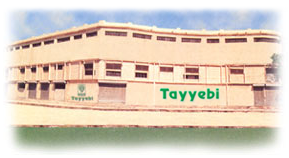 Sheikh Tayyeb Ali Tayyebi gained his Pharmacy training from London University and completed his Bachelors in Unani Medicine with Honours from Jamiya Tibbia Sharqiya, Karachi. He was a Hakim of national repute and spent his life championing the cause of Tibbe-Unani in Pakistan. A man of piety, humility and compassion, Hakim Sheikh Tayyeb Ali touched not only the lives of his family members, friends and patients, but also his fellow community members, his colleagues, and everyone who came in contact with him. He was known for his benevolence and gentleness and high regard for human life. He strengthened the foundations of the Tayyebi philosophy of compassion for humanity through his words and deeds and the legacy of the Tayyebi Dawakhana through Hakim Sheikh Tayyeb Ali Tayyebi's untiring efforts still continues.
Covering a span of 200 years and 8 generations later, the name Tayyebi has become synonymous with health and wellbeing and regarded as a symbol of excellence in herbal healthcare. The formulations handed down by Hakim Azam Khan to his luminous disciple two centuries ago have been retained in the Tayyebi family and are being followed rigorously even today to ensure the same efficacy and effectiveness of its products.